Anna's Hospitality Suite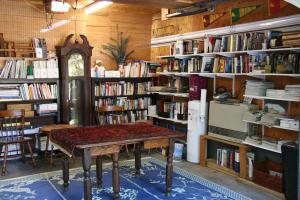 The Hospitality Suite is centrally located on our compound. We have it open all year long specifically for our guests. It has lots of goodies for you to make the most of your stay.
"The hospitality suite allows our guests to have functional cottages free of excess clutter, while having many amenities close at hand to borrow and use."
We have WiFi, a wide selection of books, periodicals and references for all tastes and ages. We encourage you to find something to borrow for the week that interests you.
We have all the local business brochures and hiking maps you will find at the Chamber as well. These brochures are for businesses that we stand behind and that our guests enjoy and recommend.
We have a wide selection of over 400 DVDs for all ages and tastes.


There are extra kitchen gadgets, spare crockery, utensils, coffee makers, toasters etc. The cabins are well equipped, but just in case. Most importantly you will find the big lobster pots and propane burners here!
There is a washer and dryer which we allow guests to use when it is available. It is usually not a problem, but we ask that guests not rely on these always being available. If by chance the machines are being used or disabled, rest assured there is a laundromat just down the end of our road on Main Street.
There are also puzzles and games for the little ones to enjoy. However, we find that the little ones find their amusement in just exploring the grounds!
News & Updates
Availability: Call 207.266.8017 9 A.M. - 5 P.M.
We are open year round!