Testimonials for the Carriage House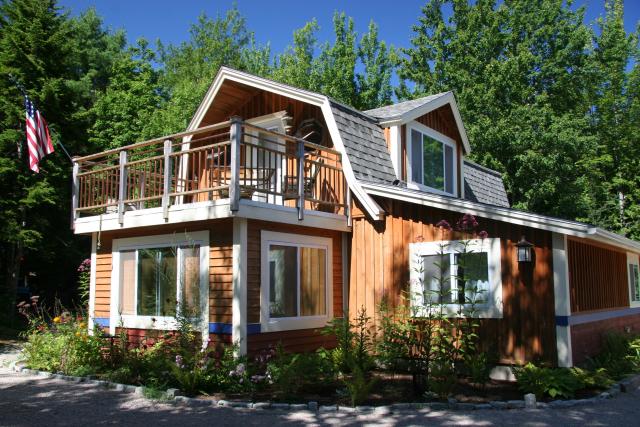 Thank you so much for having us here for the past week. Our stay was comfortable, pleasant, and outright enjoyable. MDI is beautiful and we will be coming back year after year. Anna's Quietside is exactly what we needed it to be, kids loved picking blueberries and exploring the woods. We adults enjoyed the patio and the grill. Thank you so much!

~Anita 2014
Massachusetts


Thank you for all your hospitality during our stay! Your recommendations for things to do yielded much fun for our entire group. We had a blast hiking, fishing, and kayaking throughout our weeks stay at the Carriage house. If any of our friends are planning a trip to Maine, we know where to recommend! Thanks again!

~Christine & David 2014
Ohio


Well what can I say? We came to Maine for not just any wedding, but a very special one... my Godson's. We got to run around, sight see, shop, salon and spa, hike, make s'mores around the fire pit, dress up and dance, play ball, curl up with books, and eat, eat, eat! Most importantly we got to spend time with relatives we don't see often, and catch up with the going ons of those who couldn't make it up here.Our family loved staying in the Carriage house, and are looking forward to seeing you again.

~Cindi, James, Catia & Seamas 2014
Colorado


This cottage was a wonderful place for our family to stay!! We will recommend this place for everyone to stay. Having eight people we had more than enough room to spread out and enjoy this very quiet setting. Your hospitality was very appreciated and welcomed, as you made sure we had all we needed when we arrived and during our stay. We spent our days hiking on all the trails. The views were incredible. We will all miss Maine! Thanks again.

~Jimmy, Patty, Emma, Marion, Sarah, Ashley, Gregory & Rebecca 2014
Pennsylvania


Had a great time! Mount Desert Island is a lovely region. Beautiful! Thanks to Marc for all of the recommended sights to see and activities to do. Diver Ed was fantastic and well worth the money. Marc's family was very courteous and helpful. Hospitality Suite was a great use. Thanks for everything!
~Jim, Rebecca, Victoria & Riley 2013
Pennsylvania


I loved spending time with my family at the Bluehouse and the Carriage house and I love watching the movies you provide for the TV. I also went to the balcony on the upper floor, and it is the best place to relax. I also love walking around the houses viewing the beautiful structures, and going down to the little pond, and playing outdoor activities with my cousins. I love Acadia National Park, and I love the mountains and the ocean. Anna's Quietside is the best place to bond with family. I hope we come back next year.

~Stephen 2013
Illinois


We are back again! Love the feeling of quiet Christmas trees -safe roads throughout. Great for children, running, and laughing and exploring the Tipi!
The Hospitality Suite is fun and much used!

~Joan, Stuart, Melanie, Sam & Rita 2012
Virginia


We keep coming back to Anna's because it is a wonderful place to be creative with each other. The ideas we create here become our lives for the next year. Thank you for the hospitality. We will see you again next year.
~Amy 2012
Ohio


The only problem with our stay on MDI and the Carriage House is that it's too short! After touring the Northeast, Maine has definitely been our highlight. Such unsurpassed beauty! The views from Cadillac Mountain took our breath away... again and again. We also enjoyed climbing the rocks at Bass Harbor Lighthouse and being bombarded by awesome waves at Sand Beach. We had a great outing to Bar Harbor for a lobster/shrimp dinner and creamy ice cream at Mount Desert Ice Cream.. mmm! But we definitely prefer the quietside of the island! Our cottage was outstanding -the whole Anna's community was so peaceful and perfect. From the Hospitality Suite to the warm and helpful welcome, everything was great.
Hope to be back some day.

~Steve, Lori, Micah (13), Anna (12), Lydia (8), Eliza (6), Andrew (3) 2012
Indiana


We had an amazing stay in the Carriage House! It was lovely... comfortable, homey, beautiful and perfect for our family. We loved the Hospitality Suite and the incredible helpfulness of everyone here. We truly loved being on the "Quietside" and will definitely come back and stay! Thank you for everything, we so appreciated it all.
See you soon,

~Jodi, Gary and Michael 2012
New Jersey


We had a wonderful time here at Anna's Quietside and in Acadia National Park. Our boys really loved the garden (lots of snap peas ans strawberries this week!), the pond with the frogs (especially that yellow one), and the cars and trucks at the Hospitality Suite! Lovely accommodations -we will cherish our memories. Thanks!

~Amy, Peter, Gabriel (4), & Theodore (1) 2012


This was paradise for a boy! My grandson loved catching frogs at the pond.
We had a family reunion and all the kids loved running from cabin to cabin in a safe environment. They had a nice game of tag too!
The Carriage house was a perfect gathering spot for dinner since it has such a nice patio.
This truly was a nice place to stay with many amenities for all ages. I am glad I located it for our family reunion!

~Arline 2012
Missouri


We had a great stay in the Carriage house. The kids loved the Hospitality Suite. I loved that I could find everything I needed for cooking dinners. Everything was very clean and there was plenty of room for our family of 6.

~Shannon & Victor 2012
Pennsylvania


We had a excellent stay! What a wonderful place. Clean and everything you could ask for! Great people, Marc and his family are exceptional! We also had our dog and he loved it too! The cabin is so well done and has everything we need. Wow! We will recommend it to everyone we like!

~Brian, Cathy 2011
Massachusetts


We had a great time here in Maine. Anna's Quietside Cottages is very nice and comfortable. Last year we came with 23 family members and this year we returned with 19. We rented 4 houses and everyone was happy. Weather did not cooperate but we made the best of it. Acadia National Park is beautiful. My favorite is Sand beach. We are going there now to swim. Very invigorating.
Thanks for everything.

~Martin 2011
New York



We had a fantastic stay. What a gorgeous place you have provided here. All the small touches -the flowers, garden, moss garden, hammock, etc are just perfect. We will recommend Anna's Quietside Cottages to friends and family, and we will return again to be sure.

~Amy, Matt 2011
Connecticut


Oh my -what a wonderful time we had. The Carriage house was very comfortable and met our needs well. Our hosts were very good about making sure we had what we needed and were having a good time. Being away from TV, newspapers, and being out in this beautiful place was such a good escape.
This was our first trip to Maine and we came with our daughter and son in law to celebrate her 30th birthday. I really would love to come back to relax and enjoy your beautiful retreat again.

~Thomas 2011
Texas


It was all wonderful! We're so glad to have found you!
We especially loved your gracious hospitality. The binoculars went with us land and sea. Looking for the deer as we sat outside became a ritual.
Thank you so much for a wonderful week.

~Beverley 2010


Our return for two weeks was wonderful. We made friends which we hope to have and nurture for the rest of our years! Our home away from home. We hope to return for our third visit in 2012. Have a great year.

~Joy 2010


It's been a beautiful week in Southwest Harbor! 7 days of wonderful weather allowed us to take full advantage of the park. We hiked new trails and old favorites, enjoyed Diver Eds show, saw several whales (or maybe the same one several times!).
Our best meals were enjoyed here, at the Carriage house, and always ended with S'mores made by the fire. One of our best nights here was the last night: we bundled up and laid on the deck to watch the meteor shower -what an amazing, memorable show!
Thanks for another wonderful week in the Carriage house!

~Linda 2010
New Jersey


The accommodations were great! The hospitality was great! A very nice family! We enjoyed exploring the island. Our 7 grandchildren and their parents, and us the grandparents thank you from the bottom of our hearts! Until next time!

~Don, Sandy, Brad, Nikki, Kyle, Zach, Brandon, Estell 2010
New Jersey


Another lovely summer at Anna's Quietside! The property is so beautifully appointed -so many new touches since last year. A great place to stay and enjoy the wonders of Acadia.
Thanks for a fabulous time.

~Rich, Jane, Jillian 2010
New Jersey


We had a nice, relaxing vacation. Lots of hikes -including the Beehive trail which is not for the faint of heart. A.J. swam at Echo Lake & Sand Beach and anywhere along the trails he found water.
We loved the Carriage House. We cooked in more than we ate out -salads from the garden, and picked blueberries for pancakes each morning, even a lobster dinner. At the little pond here, A.J. caught frogs and even caught the turtle (gently) and fed the ducks.
We'll be back!

~Tom, Catherine and A.J. (age 8 1/2 years) 2007
Massachusetts


We had a great time in our week here -ocean kayaking, biking in the carriage trails, hiking the Bubbles, Thunderhole, antiquing etc.
Very nice quiet place. Enjoyed the DVD library (Catch me if you can) and the vegetable garden too.
Great weather, great place.

~Rachel, David, Julia and Jake 2007
Massachusetts


Great place, great weather, beautiful park, a wonderful vacation!
We really loved this cottage and excellant hospitality. Clean house, beautiful garden, library... just like our own home. We have spent our vacations in cottages several times in the past, this one is the best one we have had.
We will come back!
Many thanks to Anna and Marc for the great hospitality!

Sonia and Hong 2007




News & Updates
Availability: Call 207.266.8017 9 A.M. - 5 P.M.
We are open year round!