Testimonials for the Lookout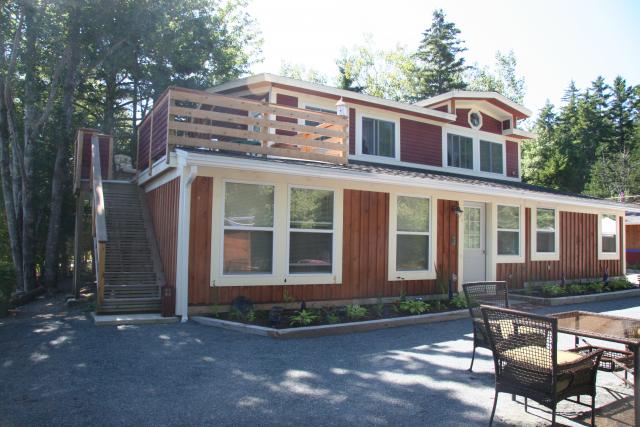 We all loved Maine and the Lookout. As usual, we didn't spend much time at our "home away from home". It was comfortable and had everything we needed. Lovely place. We enjoyed all our hikes; Ocean trail, Ship Hrabor, Beehive, and Champlain Mountain (Northface Trail). The youngest loved diving in at Sand Beach, the rest of us enjoyed wading. Diver Eds tour and whale watching were fantastic. The Carriage rides on the Carriage Roads were relaxing and very nice. Bass Harbor Lighthouse was stunning and I can't say enough about Jordan Pond House Popovers. Great time. Great place.
~Elaine 2014
Pennsylvania


It's our first visit to Maine, and we had a wonderful time staying at the Lookout. It's cozy and welcoming making us feel at home. We will definitely recommend Anna's Quietside Cottages to our friends.
We wish we could stay longer and definitely will be back in the near future.

~Xiaomin 2014
New Jersey


We are no strangers to Maine but this was our first stay at Anna's Quietside Cottages. The hospitality was wonderful! On our stay we took my dad and his action track wheelchair to the beach. He got to dip his toes in the salt water for the 1st time in 20 years. The guys went fishing out of Bar Harbor and caught a lot of fish. We swam in Echo Lake and enjoyed the fresh water for a change. Nothing beats fresh Maine lobster! We especially enjoyed the quietside of the island away from the hustle and bustle of Bar Harbor. We enjoyed all the little shops in Southwest Harbor and Bar Harbor. A relaxing time was had by all! Many great memories were made and we will be back here again! Thank you. Until next time.

~Bruce & Terry 2013
Michigan


We had an amazing time at the Lookout! We enjoyed watching the movies and playing the games from the Hospitality Suite. We also loved the location of this establishment. It was great walking into town. The lobster is great also!
The trails, mountains and Carriage Roads were breathtaking in Acadia National Park -we had a very active week. We also loved being close to Echo Lake to swim! The weather was amazing and every single day was a blessing.
Thank you for the hospitality and recommendations you shared with us.

~Lee, Kate, James, Viviane, Hannah & Sam 2013
Massachusetts


This was our first time to Acadia and we had a great time.
We hiked Echo Pond Trail, Acadia Mountain, top of Cadillac Mountain, and along Otter Cliffs while our 16 year old went rock climbing with a great guide -Jenny from Acadia Mountain Climbing School. Took the whale watch tour, we recommend getting the tickets ahead of time. Went to the Seal Cove Auto Museum, it was very interesting. Also did the Maine State Sea Kayak tour!
The lobster at Beals was great -ate there once and got take away to make lobster rolls at home. They steam and crack it for you.
Had a great week.

~Lisa 2013
Pennsylvania


Awesome,Awesome, Awesome!
We have been coming to Acadia every summer since 1999. Since the summer of 2008 we have stayed at Anna's Quietside Cottages. The Wa
yfarer, the Rose and now the Lookout. All have their unique features.
As normal we enjoyed our hikes. Acadia Mountain, Gorham Mountain, The Beehive and of course Jordan Pond.
We hiked to Bar Island and stayed a little long which required wading back to Bar Harbor! The tide returns fast!
Took the boat ride to Baker Island and hiked around the island. Nice excursion. We look forward to returning next summer and hopefully this fall.

~Karl & Sharon 2013
Florida


We are visiting Maine for the first time.
We loved seeing every part of Acadia and the Lookout has been the perfect "home away from home" for our family.
It is hard traveling with small children and Anna's Quietside worked perfectly for us. Our kids are age 9, 3 and 22 months. We were blessed to see there were even toys for them to play with during our stay.
Our favorite things to do:
Sunrise on Cadillac Mountain
Tide pooling
Wonderland trail
Ship Harbor trail
Popevers at Jordan Pond House
Long Pond trail

Thank you so much for your hospitality and the great sight seeing recommendations.

~Dana 2013
Florida


We had a completely positive experience here at the Lookout. Loved having the grill outside and made frequent use of the games and DVD's at the Hospitality Suite.
On MDI for our week we rented bikes right here is Southwest Harbor, and rode around Witch Hole Pond -great, easy, trail. Did the sunset kayak rentals at the top of Long Pond.
The island cruise at Bass Harbor was also awesome -saw seals, lobsters and 3 bad eagles! Hiked Beech Mountain from the pumping station at the bottom of Long Pond. Pretty strenuous, but great view from the tower at the top.
Diver Ed's tour from Bar Harbor was a great time too, awesome for the kids.
All in all, we had an incredible time here for the week. This place had all the comforts of home and a nice quiet location, away from the crowds of Bar Harbor. This will not be our last trip to Maine, or MDI. Thank you Marc for the warm welcome and great service!

~Robin 2012
New Jersey



We had a wonderful time here at the cottage. It's very nice and cozy inside. The location's great too; there's a little town nearby where you can get really good ice cream, and there are hiking trails close too. Acadia has breathtaking views and trails for all levels. Even the grandparents came and it was really fun.
Thanks for a great time!

~Grace 2012
New York


Sea kayaking was well worth the price as was whale watching. All the hiking is tremendous. I will give you four tips though.
1. "Little Notch" bakery down the street has excellent pizzas.
2. If going to Bar Harbor in the afternoon or evening park at the Bar Harbor club on West Street. It costs $2/hr but if you leave Bar Harbor after 9PM they put up the gate and the parking is free. So if you are going to town and leaving after 9PM free parking! And convenient.
3. Improv Acadia on Cottage street in Bar Harbor is great fun.
4. Hike Acadia Mountain and bring a swim suit with you so you can swim in Echo Lake on the other side of the road when you are finished.
~Jim & Lauren 2012
Ohio


Had a wonderful time at Acadia! The cottage was quiet liked the location. The owners were very co-operative and filled the grill gas promptly upon request.
We certainly enjoyed the stay and will recommend to friends.

~Siri 2012


Thank you Marc, Anna, Caeser. The houses are all wonderful! We came years ago to the original cabins and these houses feel luxurious! My girls while loving the hiking, swimming and shopping, especially liked the wifi.
We had great times at Great Head, Cadillac mountain, Flying mountain, the Bubbles, Sand Beach, Seawall, Oh Boy Dough Boys.
We will be back! Thanks especially for the great lettuce from the vegetable garden!

Great frog pond! We loved the shopping and the ice cream downtown!
~The girls mentioned above

~Harriot 2011
Nevada


Thank you very much for a wonderful stay in Southwest Harbor at Anna's Quietside.
The Lookout was very comfortable and met all of our needs.
Annette and Caeser were very graciouss hosts and made sure we had everything we needed.
The weather was spectacular and we had a great time.
Thanks for the delicious lettuce and herbs from the vegetable garden, thanks again.

~Kathy & Greg 2011
Vermont


Had a wonderful and peaceful time in the Lookout. First I went to Cadillac mountain. I saw the sun rise. I also had a lot f fun ocean fishing. I caught a cod, but I let it go. I stayed at the Lookout for a week, and now it feels like it is my house! I wish I could come here next year!

~Jay 2011
New York


Had a wonderful time at the Lookout! The weather for the first half of our trip was rainy but it didn't stop us. We did many activities our favorites were:
1. Divers Ed is well worth the money, even on a very wet and cold day a good time was had by -educational, hands on experience. Our grandson even kissed a crab.
2. We strongly recommend the Junior ranger program through Acadia National Park for the youngsters. Once you complete the steps a ranger swears you in and the kids get a patch.
3. The 12 mile loop at the Acadia is well worth it, Cadillac mountain vistas are beautiful, the kids will love Sand Beach and Thunder Hole.
4. Our favorite trails were Ship Harbor which was easy for all ages. Beech Cliff and Beech mountain trails had beautiful scenery.
5. The whale watch was nice, fun for the kids.

Anna's Quietside Cottages the Lookout was our home away from home if only for awhile.
Thank you for the warm welcome and the hospitality. We will surely recommend to our family and friends and look forward to visiting again!

~Jim 2011
New York


Had a wonderful time here at the Lookout!
We enjoyed a great family vacation -celebrating parents 45th Wedding Anniversary!! We had a total of 18 here this week between the Carriage House, Rose, and the Lookout!!
We were able to enjoy the fire pit every night singing campfire songs and making smores. During the day we took in beaches and hikes, fishing excursions from right here in Southwest Harbor. Bubble Rock was a favorite with the kids -along with Thunderhole!
Seven of the 8 children became Junior Rangers and took the Oath to Protect and Preserve the Park - pretty neat!!
Thank you, very accommodating and comfortable -hope to be back!!

~Sandy & Donald 2010
New Jersey, South Carolina, & North Dakota


Had a wonderful and comfortable stay at the Lookout Cottage.
It felt home away from home.
Acadia is gorgeous and we loved the mountains -sea views, Cadillac Mountain is definitely a must see, missed the sun rises though.
The owners of Anna's were very accomodating to provide us with a fire place and woods in front of our cottage. We appreciated their help.
If we come back here we would definitely want to stay here again.

~Taruna, Nishant, Manse, Vikesh, Prashant, Munnu and Amit 2010
Minnesota


We had such a wonderful time during our stay at Anna's Quietside!!
Thank you for going above and beyond to accommodate and make us more than comfortable!!!
We hope to return again sometime!
Much thanks and appreciation,

~Tim & Twyla 2010
Ohio


Our first visit to MDI, so gad our friends recommended we stay in Southwest Harbor -much more our speed! Loved being able to walk into town.
The Carriage Roads were amazing, it felt like we were transported back in time. We rode with Witch Hole and Eagle Lake Loop one day and then Eagle Lake down around Jordan Pond the next. Both rides with our 1 1/2 and 3 1/2 year olds in tow! Our hikes were a bit limited with the little ones, but they loved exploring the tidepools. Ship Harbor nature trail was nice. Enjoyed our much anticipated lobster meal at seafood ketch in Bass Harbor (Great view!) Look forward to adventures in Acadia when our boys are older.

~Joanne & Joe 2009
Maryland


What a wonderful time we've had at the Lookout! The garden is an amazing plus and the grounds are beautiful.
Cadillac Mountain was our favorite hike, also the Bubbles.
Whale watching is fun, and we even enjoyed a tour of the Jackson Lab.
Thanks for the Hospitality, we definitely hope to come back here.
~Mullens 2008
Texas




News & Updates
Availability: Call 207.266.8017 9 A.M. - 5 P.M.
We are open year round!