Testimonials for the Wayfarer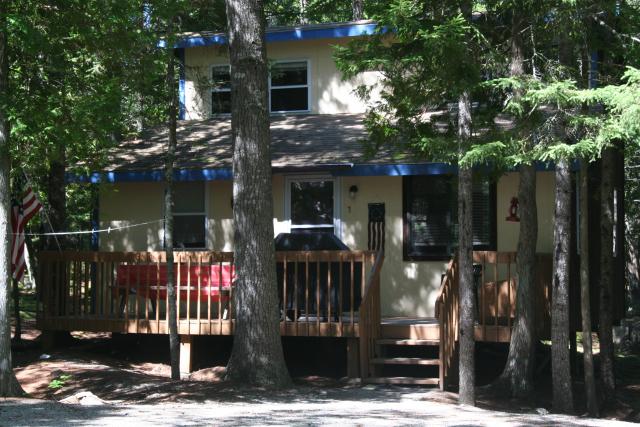 We've had a wonderful week at Anna's Quietside. We loved Southwest Harbor and it's great location on the "Quietside."
We enjoyed walking into town for dinner at Eat a Pita, Little Notch Bakery for amazing pizza and Beals for lobster.
We rented bikes at Southwest Harbor Cycle and explored the carriage roads.
We rented a canoe and paddled the beautiful waters of Long Pond. Great swimming at Sand Beach and Echo Lake.
We enjoyed the use of the grounds -having a bonfire and playing a round of croquet. The common garden was a great touch and loved
being able to snip some herbs for dinner.
Our one recommendation for all - buy a blueberry pie from the house on the corner -truly the best ever!
Thanks so much for a wonderful week.

~Jennifer 2012
Illinois





What an awesome vacation! A week isn't long enough ;-) We shared so many wonderful memories to take home with us -waking up at 4AM and having a campfire at Seawall -watching the sunrise, hiking Flying Mountain trail, which leads to a beautiful little cove, riding the Carriage Roads, Paradise Hill beautiful view, lobster dinner at Mainely Delights in Bass Harbor. We are off now to hike Wonderland trail and check out tidal pools at low tide and looking forward to our sunset kayaking tour tonight!
Wayfarer was the perfect cottage for us -relaxing and peaceful. Thank you -we'll be back!
~Carrie 2012
New Hampshire


We had a great time! The cabin Wayfarer was quaint and well thought out for appeal and comfort.
Acadia is a beautiful National Park - which we enjoyed and were able to stamp our National Parks book as as we entered in our journey of seeing this wonderful country we live in.
Southwest Harbor is a lovely town -enjoyed the evening walk for ice cream or dinner.
Quietside Cruise was wonderful (sunset) a beautiful evening on the water.
We had a great time!

~Sue 2012
New York


We had a wonderful week in the Wayfarer! Anna's Quietside Cottages was everything we hoped it would be. Thank you Marc for the Hospitality -the note and treats you left for our late arrival, the hiking advice you gave, and the help you gave with setting up the lobster pot!
Our weather was wonderful mostly 75 -80. A couple of cloudy, rainy mornings allowed us to sleep in and relax.
We enjoyed hiking, biking, shopping, and exploring with our 4 teenagers. We found movies to share in the Hospitality Suite, and loved walking into town for ice cream.
We will be sure to recommend Anna's Quietside Cottages to friends and family!

~Emily, Steve, Brian, Christina, Olivia, and Elizabeth 2012
Pennsylvania


Thank you for letting us stay here in the Wayfarer. I enjoyed eating blueberries and strawberries from the garden. They were both really yummy. I've had a great week.

~Sarah (10) 2011
New York


We had a wonderful time here is Southwest Harbor. The Wayfarer was perfect for our stay. Cozy and inviting. You all could not be more wonderful hosts! You made us feel welcome and your Hospitality Suite is fantastic! You have it all -including great DVD's, and a summer read (Water For Elephants).
I will highly recommend your cottages and will absolutely return. A week here was not nearly long enough.
Thank you so much!

~Katie & Robert 2011
Massachusetts


I love, love, love the frogs in the pond they are sooo cute! The Wayfarer is a great place to stay in, also it has really comfy beds. I think the Tipi next door is awesome! I love how we can go down to the Hospitality Suite and borrow whatever movie or toy we want. I had a really fun visit!
P.S. I love how we can walk into town and also we got really good pizza from the bakery. Boy there's just so much to do!
~Lily (10) 2011
New York


On June 25th, 2011 I came to the Wayfarer. My favorite thing we did was the lobster and seal watch. My second favorite thing was playing pool. I also liked borrowing things from the Hospitality Suite. We borrowed games. We also borrowed a waffle maker and a lobster pot. My favorite food in Maine was soft serve twist ice cream. We also went on many hikes. We drove up Cadillac Mountain. We climbed Bubble Rock, Beach Cliff and Beach Mountain. We also went swimming at Sand Beach and Echo Lake. The water was so cold! We went fishing with Ben and Dad. When we were fishing I collected rocks. We also went to other beaches and I collected rocks. We also went out to eat. I got macaroni and cheese. I loved going to Maine.
~Jonathan (6) 2011
Massachusetts


Coming to Southwest Harbor, ME and staying at your quaint cottage was one of the best decisions we made so far in 2011.
Upon arrival Marc was there to great us and show us around. He took us to our cabin, the Wayfarer, pointed out all of it's amenities -we just kept saying "Oh this place is so great!" So homey -love the wood burning stove, warming us as I write this note.
Marc went on to show us all of the grounds, Hospitality Suite, and garden. I particularly liked the frogs in the pond!
They picked the perfect name for this retreat -quiet it is and your personal touch is expressed throughout! Tom and I were very impressed with the newest house (the Pavillion) that was a design of Marc's. Much thought, knowledge and sensitivity went into such a structure and he said there was more to come -Bravo!
Again we had a wonderful and peaceful week away. Thank you.

~Tom & Karen 2011
New York


Spring on the island is amazing! Lupines in bloom -purple carpets of these gorgeous flowers everywhere. Spring nesting birds provided a musical backdrop to this spectacular landscape! We even had the privilege of observing an adult pair of bald eagles teaching their nestlings how to hunt. Travel here in the Spring if you can!
Thank you for a great week!

~Karen & Tim 2011
New Hampshire


Thank you so much for letting us use this quiet cabin. We very much enjoyed relaxing and making our own meals and exploring Acadia National Park.
You helped make our honeymoon wonderful!
Thanks again!

~Juliann 2010
Canada


We had such a wonderful stay at Anna's -next time, we need two weeks!
Grumpys was excellent for breakfast, and as always, the scenery and aromas on the island can't be beat! I would recommend a massage and facial at the Tree of Life Spa on Cottage Street in Bar Harbor -great experience while the kids and husband are on a fishing trip. Kayaking is another family activity we enjoy here. Can't wait to come back again next year. Oh, and our mini schnauzer loved his first vacation. Very pet friendly, stores and lots of restaurants. See you next year!

~Dawn 2010
Connecticut


Hello my name is Kaitlyn, I am eight. We stayed here for 5 days and we loved it. This was the best trip we've ever had. We will be back!

~Kaitlyn 8 years old! 2009


My Fiancee picked the Wayfarer via the internet. It seemed to be nice. I expected just that, a nice break from the city; however, nice is quite an UNDERSTATEMENT. The experience has been awesome, absolutely AWESOME! So much to do, so little time. Acadia National Park is full of things to do. I'd recommend using a map and drive the loop to know whats available and then return and go to the areas you found most interesting and spend time there. The whale watching cruise was awesome and every night I did, we did, star gaze. Unbelievable, awesome, magnificent.
We hope all who come here have as great a time as we sure did have our BEST vacation... For sure... I hope you also have the time of your lives.

~John & Kathleen 2009
Massachusetts


We truly enjoyed staying in the Wayfarer. Marc gave us a warm welcome when we arrived in the pouring rain.
The next morning Cesar came by to ask if we needed anything. How thoughtful. We enjoyed the use of the common area to borrow books, movies and cooking gear. We took lots of beautiful walks in Acadia. The lobster dinner at Beal's here in Southwest Harbor was surely the freshest one we could wish for. A great time was had by all.

~John & Liz 2009
Connecticut


Thanks for a fun, relaxing stay here at Anna's Quietside. The cottage was so cozy and had everything we needed!
We really enjoyed exploring Acadia National Park -our very first visit to the state of Maine! It's SO beautiful! Although we did many activities our favorite were swimming/hiking around Sand Beach, exploring the tide pools, Cadillac Mountain, biking on the Carriage Trails and seeing our first ever whale in the wild -a baby humpback during our whale watching tour!
Thanks again for everything!

~Ramona 2009
Iowa


This is our families tenth year vacationing on MDI. The first on the Quietside. We love to hike in Acadia National Park. Be sure to take in the Ship Harbor Trail on a clear day. It's awesome! Canoe/ Kayak at Long Pond and swim at Echo Lake.
This is the BEST cabin we've stayed in the past ten years. It has everything you need and more. Wish we knew about it sooner. The Hospitality Suite is also great especially for a rainy day. Enjoyed the wood stove on the cool nights and the grill on the July 4th. My son enjoyed playing his IPOD in the sound machine. A great relaxing week. Wish it wasn't ending and we didn't have to return to hot South Florida -Thanks for a great stay.

~Karl 2008
Florida


Had a great time in the cabin! On rainy days we watched an abundant selection of DVD's. Can't think of anything we needed that wasn't here. If you're new to the area, check out Echo Lake... Great scenic views and swimming area.
We'll be back for sure!

~Dave & Anna 2007
Maine

Thank you so much for making our stay such an unforgettable one! You truly made sure we had everything we needed while we were here on your beautiful island! WE loved making cozy fires in your little Ben Franklin Stove and you provided us with plenty of rainy day entertainment from your main building -board games, DVD's etc.
And to your guests who come after us, please pass on that sitting on the beach picking the sand and rocks for sea glass is one of the most RELAXING things they could do! I will certainly go home feeling like a better person! We can't wait to come again someday!

~Tiffany, Dan, Brianna, Christopher & Madelyn 2007
Illinois


We had a great time on our vacation. Thank you for such an awesome cottage. It had all the comforts of home. It's nice that we can just walk to Southwest Harbor village in minutes! The veggie garden was nice too. Thanks again. Looking forward to coming back next year!

~The Waclawiws 2007



News & Updates
Availability: Call 207.266.8017 9 A.M. - 5 P.M.
We are open year round!