Testimonials for the Veranda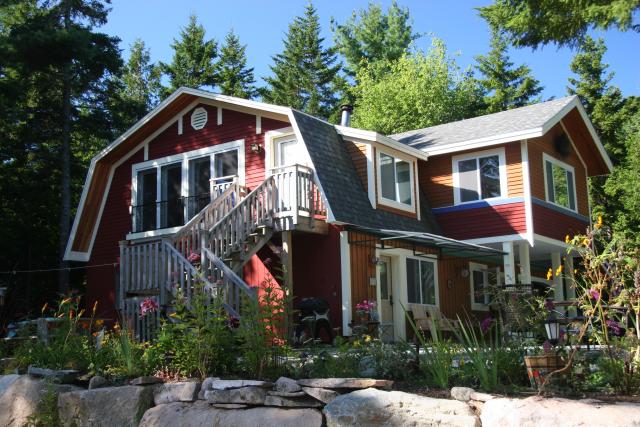 Thank you Marc and family for a wonderful stay at Anna's Quietside. The Veranda was perfect for us to visit with our son who is in school at Bates and our 7 and 9 year olds. Our friends from Boston met us here and stayed at the Rose Cottage. We took some great hikes. Biked the Carriage Roads and enjoyed this beautiful place. Thanks again.

~Jeremy & Melissa 2014
Wisconsin


The place was a real treat. Beautiful, perfect location, comfortable, host was great. We checked out the other houses and cabins and plan to come back with a group. Good eats -Little Notch Bakery for breakfast, lunch or dinner. Quietside Cafe -very Maine-esque. Sawyers Market is excellent
See you soon!

~Christy 2014
Rhode Island


The Veranda is just the best! It is cozy but modern. I stay here every year with my parents and sister and every trip is wonderful.

~Scott & Jean 2014
New York


Thank you for a great place. The Veranda is very comfortable and has easy access to all the Park activities. Southwest Harbor is delightful, and we'll recommend it to our friends and family. The weather, food, especially the desserts, and people were excellent. We are leaving with warm memories.

~Nancy & Erin 2014
North Carolina


Thank you for the great days up in the mountains. The Veranda was everything and more that my son and I expected for a getaway before he goes into the marines.
Started with Cadillac mountain 1st day, beautiful on top. Next day Beech Mountain. Also great. Lots of movies, and cards and relaxation.
All the best to you and your family.

~Peter and Keith 2013
Massachusetts

Our fifth trip to Anna's Quietside..
This place works for us. Thank you Marc & Victoria, Annette and Cesar.
Arriving Saturday:
-Beer shopping at Town Hill
-Lunch Eat-a-pita
-Wonderland hike
-Dinner at Mainely DElights
(A perfect beginning)
Sunday:
-Bar Harbor for the gear we forgot
-Arrived at low tide so we walked to Bar Island -great serendipity as we have always been to Bar Harbor at high tide
-Lunch in Bar Harbor then home for the rest of the day
Monday:
-Gorham Mountain up, Bowl trail down
-Lunch at the Veranda
-Beech Cliff loop for fun
-Dinner at home
(lovely day)
Tuesday:
-Ship Harbor mountain
Wednesday:
Northeast Harbor/ Jesup Path to meadow/Long Pond Trail -another great day.
Thursday:
-Day Mountain
-Jordan Pond Trail -Jordan Pond House tea and POPOVERS!
-Mainely Delights for dinner
Friday:
-Shopped
Saturday:
Off we go again. Not enough time for everything but always a great vacation.. in a great house!

~Peg & Lew 2013
Massachusetts


We have just enjoyed another fantastic week here on MDI.
We stayed in the Veranda again and really like the fact that everything we need is here and that we have a great place to come home to in the evening.
This year we enjoyed some bike rides and hikes. We also went fishing with the Masako Queen and came home with lobsters, fish and great memories!
Thanks for another great week and we hope to be back again.

~Deb 2013
Connecticut


We enjoyed the comfortable space at the Veranda. The kitchen and living room allowed all of us to spread out.
Acadia afforded us lots of beauty and some physical challenges too -rock climbing for our two sons and bike riding.
We enjoyed bread from the local bakery. Got great lobster rolls at Captain Nemo's. Thanks for the strawberries and lettuce from the vegetable garden, we had them for part of our lunch one day.
We took a Quietside Cruise and enjoyed learning all about lobster.

~David 2013
Ohio


My family and I had a WONDERFUL time. This side of the island is simply wonderful. We appreciated the serenity and the proximity to Acadia.
Thanks for everything!

~Thruer 2013
Maine & Pennsylvania


We had a wonderful week here in Southwest Harbor. Enjoyed visiting the park for hiking, biking and kayaking. Really enjoyed staying at Anna's Quietside, the Veranda is a very well equipped apartment. It is nice to come back to someplace quiet and homey. Even my teenager thought Anna's Quietside was awesome. Hoping to return next summer with the extended family. Thanks for all the help, and suggestions. You are great hosts.

~Deb 2012
Connecticut


A superb week herein Acadia and an excellent and comfortable stay here in the Veranda. We would certainly recommend this accommodation to friends/family and would not hesitate to base ourselves here again, should we return to MDI.
Some highlights include riding the bike trails, canoeing, kayaking, swimming in the lakes, biking over to Bar Harbor, and cycling the park loop including riding to the top of Cadillac Mountain, before an insane descent in excess of the speed limits. (Tip: the bikes at the Bar Harbor rentals were, shall we say, well worn and barely fit for purpose. Go to Southwest Harbor Cycles to rent your bike. The quality of service there, especially from Phillip, and quality of the bikes were first class.) Also boat trip to Frenchboro Island -superb.

~Roger, Max, & Alex 2012
Cambridge, England


We loved being here. A week of pre-wedding activities and fun with friends and family.
This is a wonderful place in a beautiful area. I hope we can come again.

~Donna 2012
Arkansas


Highlights: Hiking

The Beehive trail in Acadia is more mentally challenging than physically challenging. Came face to face with my fear of heights and conquered the route. Scenic vistas -stunning, beautiful, picturesque views.

Penobscot mountain is my favorite hike! A little strenuous, but worth it. The views on the way up were beyond amazing. The views were totally unobstructed!

The Veranda was a great home away from home. I enjoyed our deer visitors on the driveway this morning. Thank you Anna's Quietside for a wonderful vacation.

You should not miss Wonderland! That beach is very unique. Make sure you go to the right (as you look at the ocean) and listen to the super neat sound the water makes as it washes back into the ocean. There are so many beautiful rocks at this beach.

Jordan Stream trail is a very nice wooded trail that follows the stream. You'll traverse rocks and roots and cross several small wooden bridges. This wood be perfect for a hot sunny day because most of the trail is completely shaded.
You should definitely ride your bicycle on the beautiful Carriage Roads.
We saw a few whales on our whale watch.

~Elicia 2011
Massachusetts


Perfect getaway from our extremely busy life in Boston!

-Quick walk to Bar Island while driving around the park.
-Easy relaxing hike on Ship Harbor trail (Bass Harbor)
-Great lunch at Thurston's
-Nice swim at Echo Lake
-Stroll in Bar Harbor
-Great views from the top of Acadia mountain/ Beech mountain
-Carriage ride
-Popovers at Jordan Pond House
-Saw seals and porpoise
Thank you for great accommodations, we really enjoyed your vegetable garden!! And great view from the Veranda!

~Maya 2011
Massachusetts


We had a great time. Lots of hiking, biking, rock climbing and swimming! We were very happy we stayed in the 'Quietside' of the island!
Hope to be back again!

~Lisa 2011
New Hampshire


We had a very enjoyable stay in this comfortable unit. Four adults and two children in our party. The Hospitality Suite is very handy.
Southwest Harbor is charming. The bakery was a stop almost everyday.
We loved the park and how close we were to everything.
Thank you for the garden and all of the helpful information. Your family really made us feel welcome.
Our boys enjoyed playing pool in the Hospitality Suite.
Diver Ed was the biggest hit and the weather cooperated.
Hope we can return and see more of the park.

~Douglas & Suzanne 2011
Virginia


Wonderful! Acadia has so many places of natural beauty. Ranger Programs are a must to learn about the parks history, culture, flora and fauna.
Hike the Precipice for a thrilling climb. Thanks Anna's Quietside team for a great place to stay while enjoying Acadia!

~Craig, Naomi, Alex & Olivia 2011
Maryland


We came from MA, NV, OK, and WV there are 13 of us.
Loved Mainely Delights in Bass Harbor (thanks Karin and gang) Oh Boy! Doughboys and fresh raspberry cobbler.. And her great crab cakes.
Hiked Cadillac, Flying mountain, Beech Cliff Loop around the mountain, Wonderland, Seawall, and Echo Lake.
Popovers at Jordan Pond House! Asticou Azalea garden, Thuya graden and the wild gardens of Acadia.
Went to Bar Harbor -loved Cool As A Moose, the Man store, and Fiore!
Loved Sawyers Market and little Notch Bakery, but we went to Southwest Harbor Market mostly for the lower prices.
Climbed, swum, ate, drank beer (Cadillac mountain stout and Blueberry ale were the two favorites for sure!), walked, shopped, read, watched movies, ate, had a LOT of FUN!

~Peg 2011
Massachusetts


We came all the way from Atlanta, GA for a week on MDI -2 parents and 3 kids (6,8 and 10 years old).

Our highlights:
1. Hikes -Acadia mountain, Beech Cliffs via the ladders, Champlain mountain via Beechcroft, Seawall and Wonderland trails.
2. Take the ferry from Bass Harbor to Swans Island for the day -great rides, and search for the fine sand beach -paradise!
3. Biking on the Carriage Roads (check out the beaver dams).
4. Sea kayaking.
5. Swimming at Echo Lake. Jump off the ledges, or just pull over a little north of Acadia mountain parking and jump in.
6 Beale's and Thurston's for lobster.
All the cool stuff at Anna's Quiestide: playing pool, bonfire, the games in the duck house, games (puzzles) grilling dinner, talking with the other cottager etc..

We can't wait to come back (and we drove!)

~Peter, George, Mary & Ella 2011
Georgia


We had an amazing time at the Veranda. It was a serene vacation which was a perfect getaway from the stress filled hustle and bustle of daily life. Thank you for your wonderful hospitality and extremely well maintained and elegant accommodations.
Looking forward to returning in the future.

~Toral, Rakesh, Avanti, Saela, Shereen 2010
Massachusetts


Six women on retreat -catching up, sharing challenges and experiences, giving support. Walking, sitting in nature, laughing and relaxing.
Thank you for the sheltering, nurturing space!

~Becky 2010
Maine


We have loved our week at the Veranda -the light, the view, the quiet and we have appreciated the thoughtfulness of the Anna's Quietside team! This has been the perfect spot to celebrate our 30th Anniversary and we hope to be able to do a repeat for our 35th.

~Jane & Mark 2010
Illinois


The cottage is large, comfortable and beautifully furnished and the fresh salad from the garden is so delicious! Nice touch...
Some of our favorite things included:
-The Ravenswood store in Bass Harbor -a place that seemed from another time!!
-The Wonderland trail
-Seawall
-Kayaking on Long Pond

We would stay at Anna's Quietside again -loved being in Southwest Harbor!

~Joanne & Marina 2010
New York


We got engaged!
And we couldn't have picked a better place. Thanks for a wonderful vacation!

~Mark & Christine 2009


We have had a terrific time! Loved the screen doors, and sitting in the evening and morning watching the mountains. Loved the fog, and the sun, and the rain.
Thank you Marc, and your folks for the hospitality. We'll be back for sure

~Peg 2009
Massachusetts


It was amazing here! We all had a terrific time here. And the bedrooms and all the accommodations were perfect. Enjoyed also the variety of tableware, very pretty.
The view from the double screen doors was breathtaking. It was great being out here in Acadia. Thank you for a spectacular vacation!

~Xi 2009
New Jersey



News & Updates
Availability: Call 207.266.8017 9 A.M. - 5 P.M.
We are open year round!